We have released Bot Libre 9!
The worlds most advanced bot platform just got better. Bot Libre 9 is a free and open source platform for chatbots and artificial intelligence for the Metaverse. Bot Libre 9 includes support for chatbots, virtual agents, virtual assistants, social media bots, gaming bots, SMS bots, IVR bots, IOT bots, game bots, live chat, animated avatars, speech, deep learning analytics, and more. Bot Libre supports bots for the web, mobile, Facebook, Instagram, Twitter, Skype, Telegram, Discord, Kik, WeChat, Slack, email, SMS, IVR, Alexa, Google Home, and new platforms are being added every month.
"The bot and artificial intelligence platform for the Metaverse".
The Metaverse is the new vision of the Internet that provides a decentralized 3D ecosystem. The Metaverse combines 3D worlds and spaces, VR, AR, AI, and crypto.
The Bot Libre platform enables influencers, gamers, and businesses to engage the Metaverse by integrating true artificial intelligence and chatbots. Bot Libre bots can interact with users and navigate 3D spaces, Bot Libre provides an extensive API, integrations, and SDKs for popular 3D platforms.
"Bot are the new apps".
Chat and chatbots are the new application paradigm that is replacing mobile and web as the new leading method of engaging your customers and users. Chat lets you engage your customers everywhere, on web, mobile, social media, phone, and on the Metaverse.
Bot Libre lets anyone create a bot for the web, mobile, social media, phone, and the Internet of things. Connect your bot to Twitter, Facebook, Instagram, Telegram, Discord, Skype, Kik, Slack, WeChat, email, SMS, IVR, Alexa, Google Home, and more.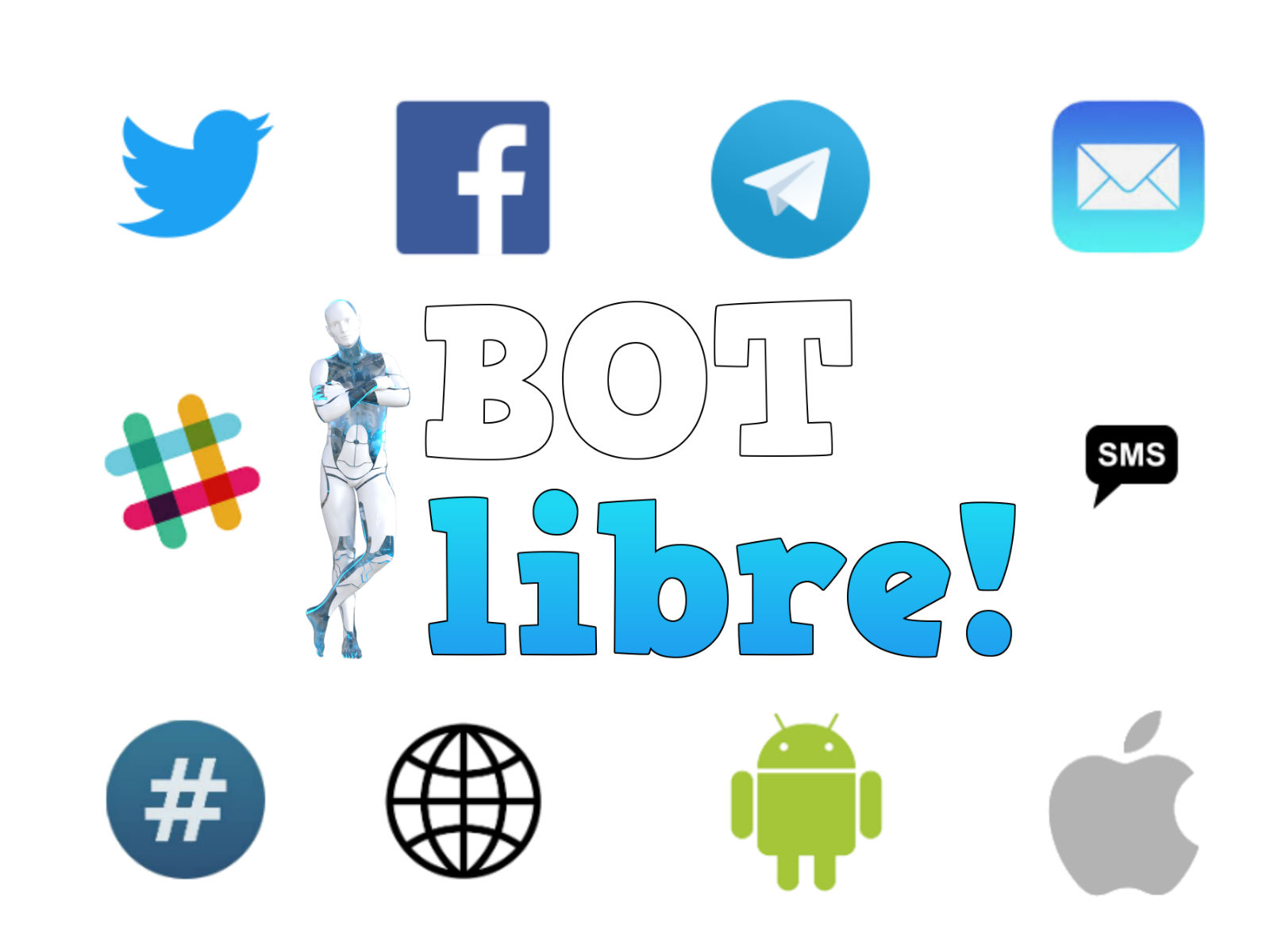 Bot Libre 9 supports rich HTML responses including buttons, links, choices, images, video, and audio. Bot Libre supports HTML responses on the web, mobile, and automatically maps HTML to social media platforms.
Bot Libre bots can be trained using natural language, chat logs, response lists, Twitter feeds, AIML, and scripting. Responses are automatically matched using a heuristic artificial intelligence algorithm and does not require any programming. Responses can also use keywords, topics, required words, labels, repeats, and other meta data.
Bot Libre 9 supports programming and scripting your bot using AIML 2, and Self. Self is our own dialect of JavaScript. Self is an object oriented scripting language, and integrated with an object database. Self extends JavaScript to provide support for natural language processing, state machines, object persistence, and includes a class library for accessing web services and utilities. Self also supports all AIML 2 operations, and some aspects of ChatScript patterns.
Bot Libre 9 is more than just bots, but a complete artificial intelligence platform. Bot Libre lets you create deep learning analytics for image recognition, speech and audio recognition, object detection, text classification, text generation, prediction and data analysis. You can create and train a deep learning analytic without any programming, just by uploading images, text, or other data. You can then access your analytics through our web API and mobile SDK, or from your bot.
New features in Bot Libre 9.0 since 8.0 include:
Deep learning NLP analytics - text classification using the BERT model
Deep learning NLP analytics - text generation model
Google Speech support
Enhanced user interface
Create your own free account and bot today on botlibre.com,
or let us build your bot for you on our commercial service Bot Libre for Business.
or download our open source platform to run on-premise on your own server